I had an interaction with user47 on Twitter a couple of weeks ago over this tweet: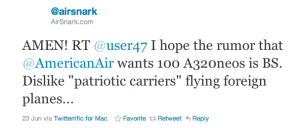 As you can tell, I wholeheartedly agreed with @user47 – a company like American Airlines (the name alone just screams American unity) looking to buy foreign planes is really disingenuous.  We have a fine aircraft maker here, and the Boeing 737 is the best selling airplane ever.  But it looks like American wants to go with Airbus.  And that sucks.
I partially choose airlines based on their aircraft.  Alaska Airlines, "Proudly All Boeing" isn't just a slogan.  They were the launch customer for the 737-900, and are all Boeing 737 in their mainline service.  While I liked Frontier, who started out with a fleet of 737s, they're an all Airbus airline now.  And honestly, I tend to avoid them.  Same thing with United, though now that they're merged with Continental, and are considering replacing original UAL Airbus flights with Boeing, I may go back to them.  They just have to get their customer service straight.
So American?  Do the right thing.  Don't order Airbus; order Boeing.  But who am I?  Just an aviation geek that plans their flights around aircraft and service…
UPDATE 07192011 @ 15:31: Apparently Boeing is doing a big-old reacharound to American to try and get the business, and not let Airbus walk away with the whole order.  Woohoo!