As I start this five part series on my own ranking of the airlines, I have to say that these rankings are all of my own choosing, and have to do solely by my experiences first hand, or because of things I've read (from credible sources).
So when you're ready to go on a trip, be it a once in a lifetime trip or that twice a week slog across the continent, you're probably not thinking about safety.  As a matter of fact, unless there has been a recent high profile airline crash, chances are that you're probably not thinking about safety at all.  But safety is, first and foremost, how we can rest assured that our travel is going to get us from point A to point B without any hiccups.
I'm going to break these into the good, the okay, and the "WTF were you thinking?".  And they are
The Good

Frontier Airlines
Alaska Airlines
Southwest Airlines

The Okay

Southwest Airlines
United Airlines

The "WTF were you thinking?"

American Airlines
US Airways
Skywest Airlines
Delta Airlines
Why did Frontier come out on top?  I haven't flown them in a few years, but whenever I did, I almost always ended up in the exit row.  And you know that little schpiel that you're given whenever you sit in the exit row?  Frontier stands heads and tails above the rest, because they didn't pull the crap that most airlines do, which is, "You're in the exit row, say yes that you understand your responsibilities. Thank you."  No, Frontier was freaking serious about what they considered safety.  If you sat in that exit row, you normally got the regular schpiel, but you also got a lesson on how to evacuate the plane.  For instance, did you know that when there are 3 people in the exit row that each has a different job?  The one closest to the door opens the emergency exit (and disposes as needed), climbs out onto the wing, and drops the the ground below.  The person in the middle seat climbs out the window and stands on the wing, just outside the emergency exit.  Finally, the person on the aisle stands up where they are seated.  They are to help direct people to the exit, where the middle-seat person helps them out of the plane, and then sends the pax down to the waiting window-seated person.  The aisle-seated person is technically the last person off the plane.
I bet you didn't know that, did you?  Unless you've flown Frontier.
Beyond that awesome briefing (which should be mandatory on every airline), Frontier mechanics have gotten into trouble for making sure their planes are airworthy.  Who else remembers the Frontier plane that got struck by lightning, and was being inspected between flights at DIA?  And while the pilot pushed to leave, the mechanic didn't want the plant to take off, for safety reasons.  When he was overruled, he stopped the plane by throwing a chuck (a wooden block that they put under the tires to keep the plane in place) into the engine.  Some see this as illegal or sabotage – but I can see concerned about a potentially unsafe plane taking to the air.  For a young airline (Frontier was still flying 737s back then – they're now all Airbus), it could have been devastating.
Second, I have Alaska Airlines.  Now if this was just post flight AS261 (the MD80 that went down in the Pacific, killing all on board due to shoddy maintenance), then Alaska may not be this high up on the list.  Thing is, Alaska learned from that, and suddenly proper maintenance and passenger safety became a higher priority.
I've actually gotten the whole big "passenger evacuation" schpiel on Alaska a couple of times, but really rare.  The thing is, though, they've taken security very serious.  For example, there was an incident that I watched play out, where someone who was seated in the emergency exit row didn't speak English.  The Flight Attendant actually stopped the plane from taxiing when it was revealed (thus another reason for more than just a cursory  "Yes" at the safety question) and they moved the passenger.  I've also watched them move people that they didn't consider capable of sitting in the exit row.
The "Okay" list includes Southwest and United.  Now there's nothing really special about either of these airlines, and absolutely nothing sticks out in my mind whenever I've flown either.  I know that at one point there was a question as to where Southwest was doing their heavy maintenance (possible outsourcing to Latin America, where the FAA doesn't certify the mechanics), but I don't know whatever became of that.  As a matter of fact, I'm going to put out a letter to all the Majors, and ask where B, C, and D maintenance checks are performed (in house, outsourced, etc).
Then comes the "WTF were you thinking?" list.  And this list goes from least to most worrisome in my head, starting with American Airlines.
Now overall, American isn't really bad, though I've had one scary situation.  I flew DFW to LAS for work, and had to spend the 4 hour flight standing.  Why?  Well, I purchased a ticket and was flying on an MD80 in the 2 side exit row.  The man next to me was absolutely ginormous.  Not his fault – I'm not going to be put out because of a large passenger.  But the thing is, he was in the window seat next to me on the 2 side exit row – and the man was so large that A) I couldn't fit in my seat if we both were seated and B) if that emergency exit had to be opened, he would have absolutely not fit through it.
American handled the situation horribly (more on that in the upcoming customer service post), and the only official word that I had was from a gate agent who said that American couldn't discriminate against someone just because they were large.  I didn't care about the man's size – just that he would have not fit through the emergency exit.  And were there an emergency, I'm not sure exactly what would have happened.
Next comes American's suitor, US Airways.  Now I can say that there's still a definitive split here at US Airways, with them and America West.  America West is a more professional, more safety conscious airline – but for all intents and purposes, they don't exist anymore.  I've been on flights (plural) where flight attendants were more interested in standing around talking than checking to see if pax were wearing their seatbelts when the sign comes on.  My last trip on them ended with the lead FA and her "best friend" male FA stood up in the galley, hooting and hollering and just having a fun time – which is fine.  But they never picked up the cabin from a 2.5 hour flight, they never got people to put away tray tables, and it came as a shock to them that we touched down while they were still standing around talking.
Now people don't understand the big deal about a tray table down during landing – but think of it this way.  Your tray table is out and usually has a metal ring around it (and is comprised of hard plastic), making it rather sturdy.  You land and hit something (not unheard of!) and are forced forward into the seat in front of you.  Think about this – what's going to give way first – the hard, sturdy tray table, or your squishy organs?  I'll take being cut in half for $200, Alex.
Then we get to Skywest Airlines.  Now it's true that they were named one of the 10 most dangerous airlines (though there's a well deserved refutation of how that came to be).  Thing is, this doesn't have to do with accidents.  Rather, it has to do with maintenance issues.  Specifically, I was flying Skywest as a regional carrier for United this past Summer, and out of 8 flights, only 3 of them were not delayed by maintenance.  Otherwise every one of the other 5 flights had a maintenance delay of between 15 minutes and 3 hours.  Now it's just a maintenance delay, right?  Well tell me WTH is going on that a plane needs that much maintenance.  The night of our 3 hour maintenance delay in O'Hare, there were 4 other Skywest operated flights from nearby gates – and every single one of them also had a maintenance delay.  Think about it – five planes at five gates, all with maintenance delays. Exactly what happens to these planes when they're supposed to be taken care of during routine maintenance?  Or is the airline performing maintenance whenever there's a flight.  Whatever the case, I had such lack in trust for Skywest that I abandoned flying United altogether – and told them why.
And finally we get to the bottom of the barrel, which in my personal opinion is Delta Airlines.  There are so many damn issues that it's hard to classify them all.  From pax that get up and walk around during the plane's taxi (and flight crews not doing anything about it, much less stopping the plane or calling the cockpit), to leaving unqualified people in the exit row.  I boarded a plane to Amsterdam after watching Delta put an elderly couple in a wheelchair in the exit row.  I've seen them not even ask people in the exit row if they were okay.  Hell, one of the first picture I ever tweeted was this: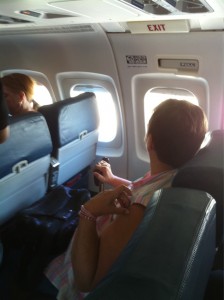 If you can't make it out, it's a disabled woman with a cane looking out the emergency exit, which she is seated next to.
But probably the biggest thing was when I watched two passengers get into it.  The person in the middle seat wanted the exit row windowshade opened, while the person at the window wanted it closed.  Everyone knows the most important (and most dangerous) parts of flight are takeoff and touchdown – and that windowshades need to be open.  The middle seat pax contacted a flight attendant to try and force the window seat passenger to open the windowshade, but the flight attendant took the window seat passenger's side, saying it could be closed if they wanted.
Sorry, but windowshades need to be open at least during takeoff and touchdown.  The only airline that I know that had this as part of their safety briefing was TWA, but when American took them over in 2001, that went away.
So that's AirSnark's guide to passenger safety rankings of the airlines – all my own personal opinion.  You may have other experiences, and that's fine – but this is how I see it.
Next rankings should be less contentious – onboard amenities!