I alluded to this in a previous post, but now wanted to provide the proof/thought behind my reasoning.  I'm going to preface this with the fact that I'm a big Alaska Airlines and Horizon Airlines fan; I'm MVP Gold 75K, and travel at least one of these two carriers weekly.  That's what saddens me so much to report this.
My last trip PDX -> ORD came just days before I started a regular PDX -> SEA -> EAT routine.  I always read the inflight magazines (Alaska Airlines is here, and Horizon Air's is here).  Mostly not for the features or articles, but for the airline information in the back.  I was particularly struck with the route mapping in the back of the Alaska Airlines magazine as opposed to the Horizon Airlines magazine.  So much, that I'll show you what I mean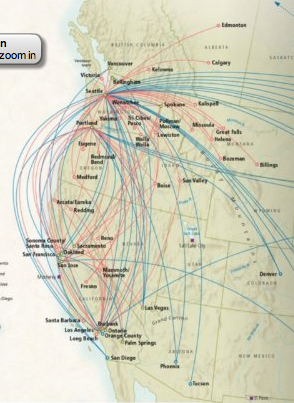 This is the route map that everyone is used to.  It's the Alaska Airlines and Horizon Airlines route map, clearly distinguishing who goes where.  The PDX->SEA Shuttle, of course is in red meaning Horizon Air.  While SEA-DEN is in blue meaning Alaska Airlines.  This is the route they've used for forever.  And the ones that customers are used to.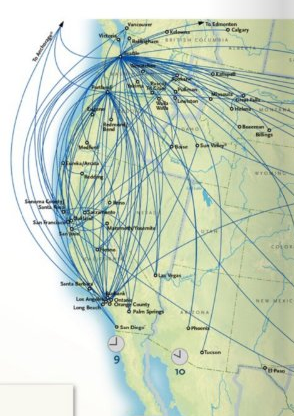 The above is the route map in the latest Alaska Airlines magazine.  Notice anything?  Yeah.  Everything is in blue.  And the map indicates that these are "Alaska Airlines Routes".  PDX -> SEA Shuttle.  SEA -> DEN.  All of it.  Alaska Airlines.  No indication of Horizon Airlines at all.  The only red on the map is now what's shown of partner routes (Delta out of MSP, DTW, ATL, and American out of DFW and ORD).
I may be reading into this, but I think I'm not.  With all the hints of Horizon changing (Alaska Air Express, anyone?) that I've heard from my flight attendant buddies, I've been waiting for this.  Not happy with it, but knew it was coming.  This is just one more bit of conclusive evidence to that fact.